Organization and perseverance help the student to flourish and obtain a valuable internship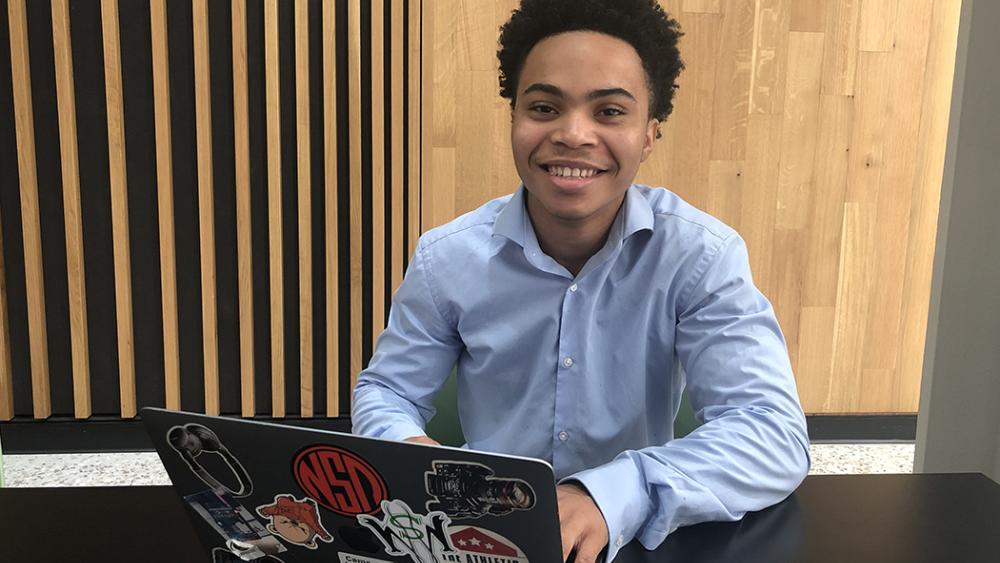 This is the ninth in a series about Donald P. Bellisario College of Communications students doing summer internships.
A hard-earned lesson in college life has helped a Penn State student modify and improve his approach to finding more success on and off campus, including an internship he hopes will open up the doors of a possible career.
"I learned and worked hard to be more organized," said Cameron Hightower, a young film production student. "It all depends on what you want to prioritize. I probably didn't do it as well as I could when I got to Penn State. Now, however, I have a routine that works.
Hightower begins each day with a visit to the gym, believing that healthy habits provide a solid foundation for success. Along with that, he is busy. He works in the equipment room at the Donald P. Bellisario College of Communications, serves as co-chair of public relations for the Penn State Student Black Caucus, and completed a storytelling internship in the president's office.
Another important internship represents his most recent achievement.
He reads scripts and writes a cover — summarizing the submission, its premise and characters, as well as sharing his thoughts on the play — for Eclectic Pictures, a Hollywood-based production company. During Hightower's three-month mission that began in July, he is to make at least 24 covers.
His first two assignments amplified his enthusiasm and boosted his confidence.
"One of the first scripts I covered was similar to 'Umbrella Academy,' with class warfare and high school kids," he said. "It's just interesting to see how the stories come together, to see the development of the characters, and to relay that information in a blanket. The first couple seemed like strong scripts.
One of Hightower's strengths – persistence – helped him get the internship. With guidance from Bob Martin, the assistant dean who heads the Office of Internships and Career Services at Bellisario College, and Julie Miller, the internship manager, Hightower focused on finding an internship that would put him in contact with the film industry.
He discovered the opportunity on LinkedIn, then explored the company's website for more context and details. After applying, he followed up with a call, a contact request on the website, and a text message. "I just didn't want to miss the opportunity," Hightower said.
Hightower said the support of faculty and staff at Bellisario College helped him grow during his undergraduate career.
"You need to have good mentors and good people around you," Hightower said. "Penn State has great mentors and they have encouraged, supported and helped me get things done. They all do a great job of helping you connect, share their passion and help you find your passion .
"They all encouraged me to work hard to achieve my goals. It helped me stay consistent and motivated me to do my best in everything from writing a resume to diversifying my skills. »
Hightower's focus and work ethic are constantly noticed by those around him. They also point to his ability to help others.
"Cam's work ethic is best described as determined. Give him a task and he'll do whatever it takes to get it done," said John Zangari, associate director of Bellisario College's equipment room. He also noted Hightower's support of others, which is delivered personally and practically. "He has an incredibly creative spark that allows him to give recommendations to students in a constructive way to ensure they get the gear they need."
People also notice Hightower's energy and enthusiasm. This has been his approach for years. In high school, he was an athlete and participated in the production of several musicals and plays. He was always busy.
He has a similar routine at Penn State. After those morning visits to the gym, he stays busy.
"I'm not sure exactly what's next — cinematography, scriptwriting, whatever — so I want to try as much as I can, connect and figure it out," Hightower said. "I hope to get into the Penn Hollywood program when I'm a senior and it seems like the best way to do that is to be good at a lot of different things."