Rutgers Senior helps lead the first student organization dedicated to the religion of ancient Jainism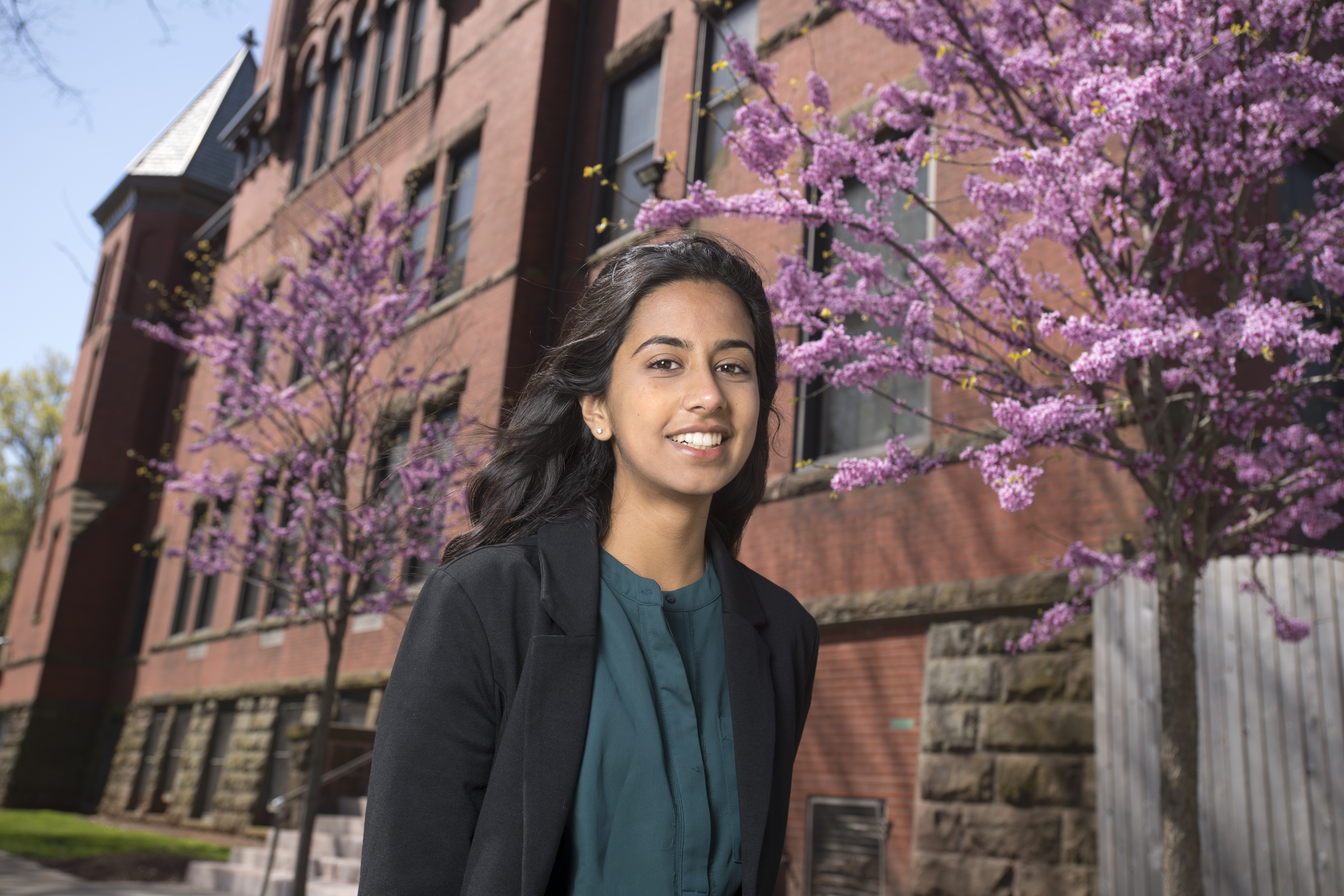 Harshita Jain is a leader at Rutgers and nationally in her community
Raised on the principles of Jainism, Harshita Jain wanted the ancient Indian religion to be an integral part of her college experience. When she arrived at Rutgers–New Brunswick in 2018, the Honors College senior found a strong Jain community.
"Having a tight-knit community like this has supported me in ways I didn't know I would need," she said. Jain learned from others how to incorporate Jain teachings into his daily life and developed lifelong friendships.
At the end of its first year, the band became a officially recognized student association on the campus. As a sophomore, Jain organized social gatherings and discussions, as well as volunteer outreach efforts. The pandemic then hampered activities for more than a year.
"Coming home during the pandemic has helped me realize the importance of surrounding myself with people of similar values ​​and in a similar phase of life to me, because no one else could better understand the feeling of finding how the faith fits into the life I want to lead," Jain said. Since the campus reopened to students in September, "we'I recreated that community," said Jain, who became one of the group's members.'s three co-chairs.
Predating Hinduism and Buddhism, Jainism considers non-violence as one of its main tenets, reflecting the belief that all living things have souls. Jain is a common name among Jain followers, just like Shah, she explained. The religion, which has an estimated 5 million followers worldwide, was a major influence on Mahatma Gandhi as he developed the practices of nonviolent resistance he employed in South Africa and during the independence movement of India, which later inspired Martin Luther King Jr. and Nelson Mandela.
The presence of the Jain community grew at Rutgers. The biomedical engineering major with a minor in business administration was thrilled when Rutgers School of Arts and Sciences announced in January that it was launching a graduate program in Jainism – the first of its kind at an East Coast university.
Jain chose Rutgers–New Brunswick largely because it's near his temple, the New Jersey Jain Center in Franklin Township and his home in North Edison. "My family has always been my number one support system," said Jain, who has two younger siblings.
Jain was a baby when his family left Bangalore, India and moved to New Jersey. The 21-year-old is fluent in Hindi, can read and write Gujurati and understands Marwadi, the language spoken in Rajasthan, the Indian state where both sides of her family are from.
As a freshman, Jain participated in Rutgers Spring Service-Learning Trip to Washington D.C., learning about the root causes of homelessness and volunteering at a homeless shelter and center. food distribution. "It was one of the most impactful experiences of my life," she said.
Jain used this experience to develop workshops for students to explore homelessness and find solutions. She hosted an event for fellow Rutgers Honors Engineering Council members to discuss homelessness while making blankets for children in need.
Jain's role as a leader in his community goes far beyond Rutgers. She is also Director of Education for the 10,000 members. Young Jains of america, where she embraced the concept of ending homelessness nationwide. Across 20 events, members of the youth-led nonprofit created nearly 50 covers while brainstorming solutions to homelessness, she said. "The experience gave me the ability to make changes," she said. "I'm really proud to be able to make things happen."
Her other roles at Rutgers included serving as a resident assistant her sophomore year, which taught her how to manage conflict, help students deal with stressors, and build confidence and comfort in starting conversations. . "It forced me out of my comfort zone," she said. Additionally, Jain is an Ambassador for the Honors College, providing tours for new and prospective students.
Jain said his Rutgers experiences "helped me understand who I am. It's the most important thing I'll walk away with. Over the past four years, "I've learned what I love and what that I don't like, what I want to spend my time and energy on."
One of her favorite classes was the "Honors College Forum", in which she and other freshmen planned a socially responsible and sustainable business of buying stained produce from farmers to make affordable fruit spreads for communities that lack food options. For her senior design project, she and her teammates developed a wheelchair tray that is portable and easy to set up.
Rutgers School of Engineering assistant dean Jean Patrick Antoine became a mentor after inviting Jain to help organize a Young Engineers Day event his freshman year. Since then, Jain has regularly consulted with Antoine on his academic and professional journeys, and the two share playlists.
"Harshita is a poised, articulate and focused academic warrior," said Antoine, advisor to the Rutgers Specialized engineering consultancy, a group led by Jain. She's eager to bounce ideas from others to make them better and takes a holistic approach to developing solutions, he said. "She uses engineering to solve social problems and brings her understanding of social problems to inform engineering decisions."
As a student leader, Jain is sincere and approachable, and "this allows him to be a big influence," Antoine said. When speaking at events for new students with honors, Antoine said he refers to Jain as an example of a student "who took full advantage of the opportunities presented to her".
Jain aspires to become a social impact consultant, helping businesses and nonprofits around the world develop sustainable solutions to problems. The former treasurer of the Alpha Eta Mu Beta Biomedical Engineering Honor Society is an intern at biotech company Celularity, Inc. After graduation, she will work for FTI Consulting as a consultant with its healthcare solutions team in Manhattan. .
Although thrilled to graduate, Jain said she will miss the many opportunities available at Rutgers. His only regret is not enjoying it more. She did, however, join a campus lacrosse club as a senior in the second semester and ran her first half marathon. In October, she traveled to Lindau, Germany, for a conference on interfaith diplomacy – an experience that ignited her passion for travel.
"If I had one lesson to share with everyone, it would be this: Be excited about life. The little things, the big things, and everything in between. And use that excitement to overcome the lows and truly enjoy. ups and finding fulfillment in what you do and who you grow into along the way," Jain said. "I've learned that the power to create change is in my hands."