World Tourism Organization (UNWTO) Awake Tourism Challenge 2022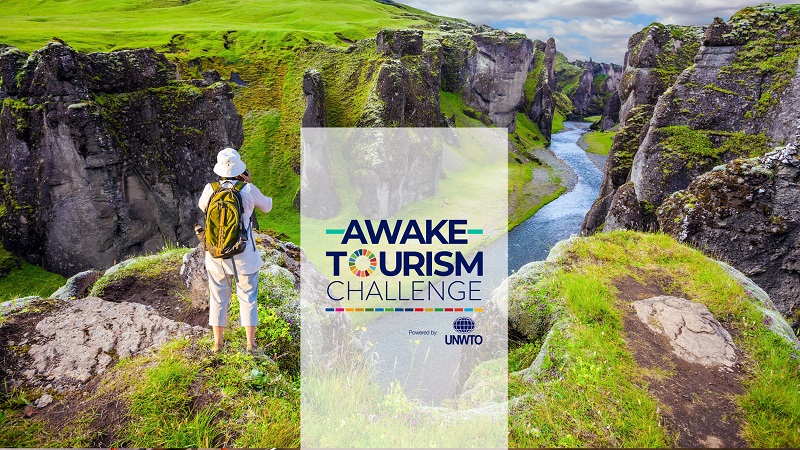 Deadline: June 30, 2022
Entries are invited for the UNWTO Awake Tourism Challenge 2022. The World Tourism Organization (UNWTO) seeks to find the most innovative startups working to advance the United Nations Sustainable Development Goals.
UNWTO has identified 6 challenges that will serve as categories for this program. As there may be projects that can contribute to more than one category, the one in which the positive impact is expected to be the strongest should be selected.
Categories
Involvement of the local community: 80% of all people living in "extreme poverty" live in rural communities, while domestic, rural tourism and ecotourism have become the most popular travel choices. With a focus on communities, the sector has great potential to boost local economies and improve the economic conditions of low-income and vulnerable populations.
Green and blue savings: tourism can be a source of economic opportunity while protecting natural ecosystems by developing its operations with sustainable infrastructure through more efficient energy, water and waste management systems.
Creation of ecological and sustainable capital: sustainable capital has the potential to optimize the use of resources, reduce greenhouse gas emissions and also provide a competitive advantage in the market for companies. At this stage, green investments and sustainable financial mechanisms can boost the potential of tourism to achieve the SDGs.
Tourism technology for good: advances in deep technology have revolutionized the industry, particularly since the onset of the Covid-19 pandemic, simultaneously improving the customer experience and increasing the quality of life and well-being of societies, including subjects such as accessibility, inclusion, poverty reduction. Artificial intelligence, crypto, blockchain, metaverse, NFTs are welcome in this category.
Tourism education: despite accounting for 10% of global jobs before Covid-19, tourism has faced a challenge in terms of skills development. Indeed, almost 20% of those employed in certain tourism industries in the European Union had less than primary and lower secondary education in 2018. In addition, there are currently no continuous measures or updated data on skills development and its contribution to the creation of value-added jobs. , which are fundamental to moving forward on this agenda.
Women's empowerment: although they employ the largest number of women in most parts of the world, yet they tend to be concentrated in the lowest paid and lowest ranked jobs in the sector. Gender-focused startups can make an important contribution to equality.
Advantages
Benefits for winning startups include, but are not limited to:
Sponsorship provided by Wakalua to present at UNWTO Demo Day (location and country to be confirmed);
Application through the YouNoodle platform, which facilitates introduction and growth opportunities for startups;
Access to more than 90 venture capitalists, large companies and more than 150 countries;
Become a member of the UNWTO Innovation Network;
Mentoring and acceleration program organized by UNWTO partners;
Startup Campus membership;
Potential pilot project with private sector collaborators and institutions;
Potential seed funding;
Incubation services at the Spark Innovation Center Les Roches, including 3 months of accommodation in Crans-Montana, provided by the Sommet Education group.
Eligibility
Startups from all walks of life, around the world and from all economic sectors are invited to participate if they meet the following criteria:
Be innovative in nature by offering value-added solutions;
Be focused on sustainability;
Be scalable: have potential for international growth and potential for application in businesses and destinations (countries, regions);
Be an early-stage or Series A startup;
Introduction or adoption of digital and technological elements;
Have a tested pilot project and business plan;
have already been accelerated;
Have a full-time team with at least 2 members under the age of 35. Gender balance will also be taken into account.
All forms of innovation are welcome: technology, social impact and sustainable solutions.
Evaluation criteria
Participating startups will be evaluated based on their:
Contribution to the Sustainable Development Goals
Ease of capturing value through collaboration with the startup
Potential business impact
Product/technology maturity
Maturity of the team and the organization
Preparation for partnership
Application
Prepare your application:
Keep in mind the category you will be applying for
Read it Contest terms and conditions
Read the questions in the application form
Make an attractive pitch deck in English (no more than 15 slides)
List your web page, social media users and contact information
Once you have them all ready, fill in the Application form in English
For more information on the ore, visit UNWTO.